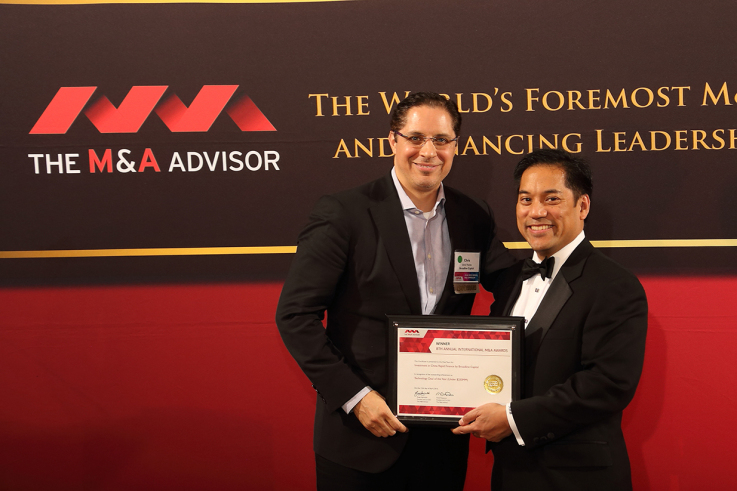 Christopher Thorne, Founder and Chairman of Broadline Capital (left), receives the "Technology Deal of the Year" award from Roger Aguinaldo, Founder & CEO of The M&A Advisor (right) at the 2016 International Financial Forum in New York City.
New York, April 20, 2016 – China Rapid Finance Limited("CRF" orthe "Company")announced that Broadline Capital's investment in the Company was honored as "Technology Deal of the Year" at the 2016 International Financial Forum's 8th Annual International M&A Awards, which recognize excellence in deal-making and celebrate the contributions of the world's leading investment firms and transaction professionals.
CRF received a pre-money valuation of US $1 billion in the July 2015 Series C funding round that was led by Broadline Capital. Broadline Capital was chosen from over 250 participating companies to receive the "Technology Deal of the Year" honor for its pivotal role in that financing.
"We're pleased to see Broadline Capital's investment in China Rapid Finance win recognition as Technology Deal of the Year," said Dr. Zane Wang, Chief Executive Officer of the Company.  "The strategic support of Broadline Capital and our other investors has been crucial to the Company as we apply our unique technology to bring affordable credit to China's emerging middle class."
Broadline Capital is a global private equity firm focused on growth capital and impact investments primarily in China and North America. Christopher Thorne, the Founder and Chairman of Broadline Capital, serves on the Company's board.
"While this is a great honor for Broadline Capital, this award from the International Financial Forum is also about recognizing CRF as a true innovator,'' Thorne said. "Zane and his team have truly pioneered an end-to-end, automated, mobile-based lending service that will revolutionize consumer lending in China."
The Company is pioneering consumer credit in China, and has defined a new user segment it calls Emerging Middle-class, Mobile Active consumers, or EMMAs. This group is comprised of nearly 500 million people in China who, despite quality careers and stable income, have no credit history and, as a result, can't get loans from Chinese banks.
CRF uses technology to solve this problem. With a multi-data, multi-channel partner model, CRF is able to identify, select and contact creditworthy EMMAs at a lower customer acquisition cost compared to other customer acquisition models.
The leader in using big data algorithms to derive credit scores for China's emerging middle class, the Company uses its predictive selection technology — proprietary algorithms evolved over 15 years — to analyze alternatively sourced, unstructured online social, search, transaction, and browser data. In this way, the Company can pre-screen and select the borrowers most likely to repay loans.
Once a borrower has been chosen, the Company applies its automated decisioning technologies and credit scoring technologies to create application scores, fraud scores and response scores to determine loan size, term and interest rate.
About China Rapid Finance
China Rapid Finance Limited began its operations in 2001, and is the largest online consumer lending marketplace serving China's emerging middle class in terms of total number of loans. The Company is a recognized innovator with a proprietary Big Data analytics technology platform. The Company has a proven track record in credit risk management and transparency, and has facilitated more than 5 million loans to-date.
Media Contact
Edmond Lococo
ICR Inc. +86 10 6583-7510